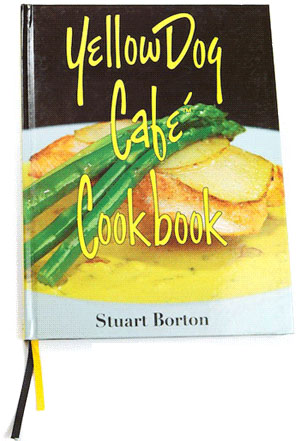 Order online Chef Stuart's Hard Back cookbook

$29.95 for book and $14.00 for Priority shipping or $9.95 for Standard shipping (allow up to 2weeks).
Or buy your book at the restaurant while indulging on comfort food with a flair!
---
---
Cooking Like a Pro
Now you too can whip up an impressive dinner like the professionals! Chef Stuart Borton has released his own cookbook and it's got many of Yellow Dog Café favorites in there and much, much more.
This is a beautifully done, hard cover cookbook with over 200 pages packed some of Chef Stuart's favorite restaurant quality recipes, all of them adapted for home use. All the recipes are hand-picked, tested and certified by Chef Stuart and his staff. The recipes run the gamut from appetizers to desserts and everything in between. There are even some recipes for "Homemade Dog Food!" There are several "Chef's Tips" provided to give you some inside information and most of the recipes have pictures of the completed dish.
Additionally, it contains several candid stories about Nancy and Stuart's beginnings, as well as many pictures of the riverfront restaurant, Yellow Dog Café.
This is a "must have" item for anyone that loves Yellow Dog Café and has the desire to cook like the pros.
The cookbook is also available as an e-book on Kindle. Use this link:
Yellow Dog Café Cookbook on Kindle